When Memorizing is Difficult
A child's response to memorizing Bible verses may be groans or resistance. Given free time, children naturally want to play with toys or friends—anything but memorize. If Scripture memory has not been a part of your child's experience, talk about why it's important to memorize God's Word, why it's not an optional activity, and why you're committing to working together to learn the verses.
Show the Way
Once they see you embracing memory work, and as you talk about the enemy's efforts to make it hard, most children will want to join you. They enjoy the challenge of Bible memory and find it relatively easy. Some, however, do have a harder time. With them, simply not memorize isn't a good solution, though, because every child needs the Word of God to be equipped to fight life's battles. If your child struggles to memorize, patiently struggle along with him or her. 
Give it Time
Meditating on a verse or passage over many days, or even months, will eventually lead to memorization. Maybe not word-for-word, but the themes and truths of that passage will begin to take root in your child's heart. Be patient. Even if you think nothing is sticking, time spent with your child reading, speaking, writing, drawing, and pondering God's Word is time well spent. It will reap a harvest. God's Word always produces spiritual fruit: 
"For as the rain and the snow come down from heaven and do not return there but water the earth, making it bring forth and sprout, giving seed to the sower and bread to the eater, so shall my word be that goes out from my mouth; it shall not return to me empty, but it shall accomplish that which I purpose, and shall succeed in the thing for which I sent it." (Isaiah 55:10-11)
Ask God for Help
Pray for your child, and with your child, asking God to help you both remember what He has said. Every child has an avenue into his heart and mind. Sometimes it's hard to find. Pray for wisdom and ask the Spirit of God to help you. He will show you the way into your child's heart. 
Every child needs God's help to memorize—God is the one who gives us the ability to know and remember anything (Psalm 94:10). So whether your children remember after just a few read-throughs, or it takes them months to be able to recall even a short passage without help, parents should encourage children to ask for God's help to store up God's Word in their hearts. 
Scripture teaches us how to pray. We can pray for the desire to memorize (Psalm 119:64). We can ask God to make us, and our children, hungry for God's Word (Jeremiah 15:16). We can pray that we would be confident that God's Word is true and take refuge in it (Psalm 119:160, Proverbs 30:5). 
Praying for and with your children about memorizing Scripture is one of the greatest things you can do. In Deuteronomy 6:6-7, the Lord declares, 
These words that I command you today shall be on your heart. You shall teach them diligently to your children, and shall talk of them when you sit in your house, and when you walk by the way, and when you lie down, and when you rise.
If the Lord commands us to teach his Word to our children, we can know that He will hear us when we seek His help to memorize.
Resources for Memorizing with Children
Foundation Verses Cards

Help toddlers and preschoolers lay a firm biblical foundation with the Foundation Verses. These 76 verses are strategically chosen to equip young children with biblical truth. Vivid pictures prompt children's memory, helping them recall the verses.

Order

Coloring Book

Original illustrations for young children to color as they work on memorizing each of the 76 Foundation Verse. Also includes memorization suggestions and a chart to track memorized verses.

Order

Tote Bag

Perfect for carrying Bibles, My Church Notebooks, and Fighter Verses or Foundation Verses Coloring Books to church.

Order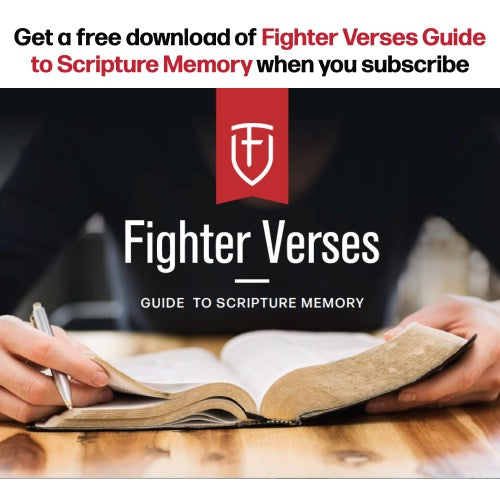 Sign up to get each week's passage, devotional, and help for memorizing delivered to your inbox—and we'll include our Fighter Verses Guide to Scripture Memory Free.
Free Guide