Ways to Give
One-time gifts

Use your credit card, debit card, or bank account to give securely online or by phone at (877) 400-1414. If you prefer to send a check, please mail it to:

Truth78
PO Box 851684
Minneapolis, MN 55485-1684
Monthly, recurring giving

Partners who regularly invest in the ministry of Truth78 by setting up recurring, monthly gifts help provide stability for ongoing and expanding budget needs. Use your credit card, debit card, or bank account to give securely online or by phone at (877) 400-1414.
Giving through a donor advised fund

Donor-Advised Funds (DAFs) offer a convenient way to manage charitable giving through a centralized account managed by a sponsoring organization, such as National Christian Foundation, for example. This may allow you to direct charitable giving to multiple ministries, including Truth78, through a designated fund while receiving tax benefits at the time of contribution to the account. This is also a way to give anonymously or involve family members and friends in directing funds as grants to organizations of your choice. For more information on DAFs, please contact your financial advisor or our partner development team at partners@truth78.org.
Giving through an IRA

You can make a qualified charitable distribution (QCD) from your IRA (or ROTH) starting at age 70 1/2. This also may reduce your tax bill and satisfy the annual Required Minimum Distribution (RMD) for taxpayers age 72 or older with up to $100,000 per year tax free. To give a gift to Truth78 through your IRA, your plan administrator will need our EIN # 47-3782829. Gifts may be sent directly to Truth78, PO Box 851684, Minneapolis, MN 55485-1684.
Gifts of securities

Investment securities may provide a way for you to support Truth78 while also avoiding capital gain taxes and offering tax deductions. If you have stocks, mutual funds, or government/corporate bonds and wish to know more about transferring them to Truth78, please contact our partner development team at partners@truth78.org. Since investments are received or sold at fair market value upon receipt, we desire to work with you and the appropriate brokers to ensure a smooth and timely process for your transaction.
Legacy giving through an estate plan

Gift planning options through your retirement, insurance, or investment accounts may be included in your estate planning to ensure that giving to the mission of Truth78 lasts beyond your lifetime to future generations. For more information on legacy giving, please contact your financial advisor or our partner development team at partners@truth78.org.
Employer matching programs

Many employers offer matching gift programs that can double or triple the impact of your gift to Truth78. Please consider asking your employer about any incentives that they offer and how to be sure your giving to Truth78 is included.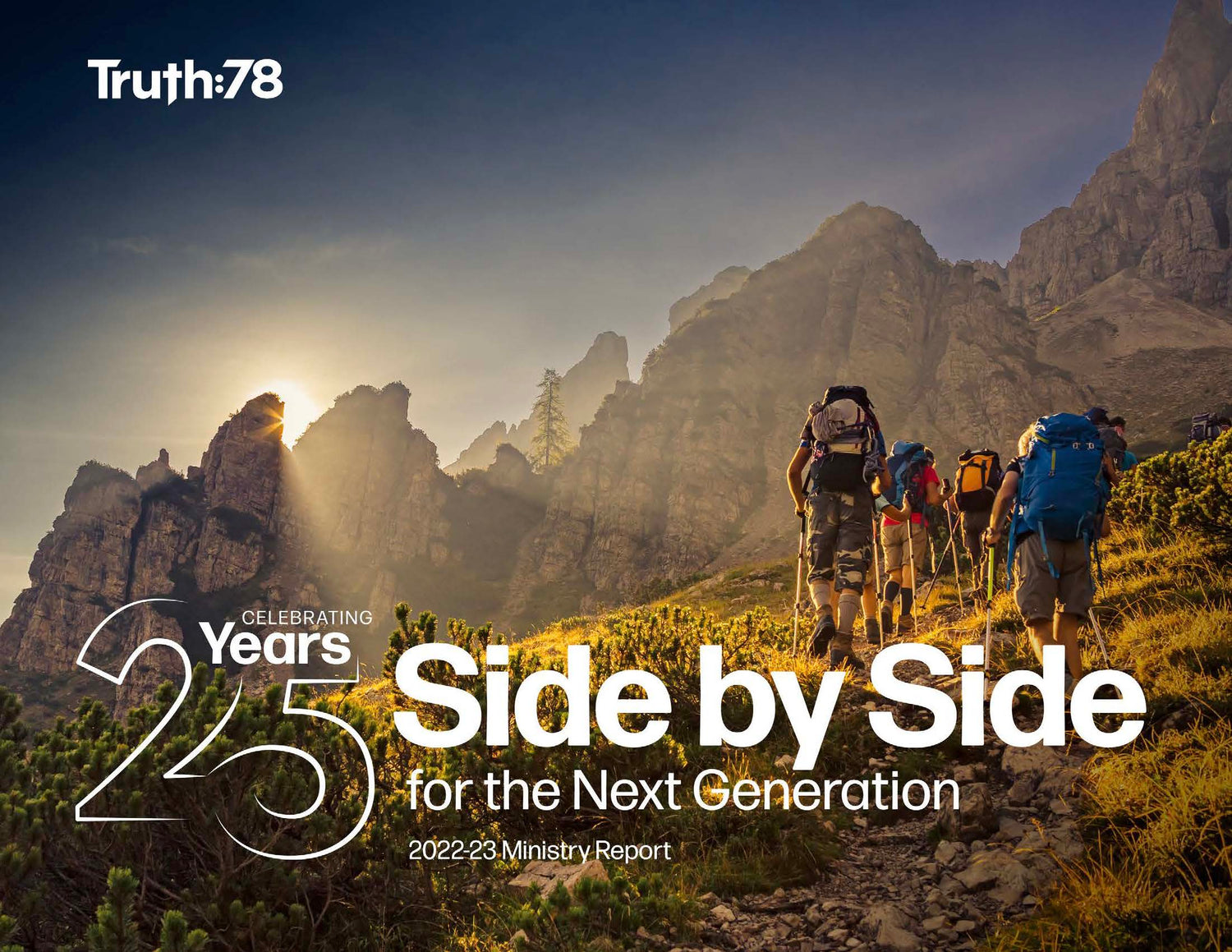 Generous financial partnership provides necessary funding for the mission to inspire and equip churches and homes around the world, so that our children will not be shaken, but set their hope in God and enjoy him forever through Jesus Christ. See how God is using our partnership to make an impact for the eternal joy of the next generation. 
DOWNLOAD REPORT
Truth78 has helped transform the way I parent and how I think about ministry to families and children as a staff member at my church. I am so grateful for their contagious passion which is deeply rooted in truth.
Becky 

This ministry has helped our family grow in our faith and knowledge of our Savior and we want others in our city, state, country, and around the world to have access to the amazing gifts Truth78 has to offer.

Marco, Abbie, and family

Truth78 resources are unique, revealing the attributes of God, pointing to the Savior, and grace-presenting in tone. I think it is one of the best resources for the next generation.

Jongjin
The Truth78 Team is responsible to be faithful stewards of everything we receive, since it is ultimately from God and for His glory. The trust that is represented by every dollar given is sacred, and we've defined our effort to protect and preserve that trust in our Commitment to our Financial Partners.