Family Devotions
I have no greater joy than to hear that my children are walking in the truth. 3 John 1:4
Family Devotionals
Glorious God, Glorious Gospel

Give your children the full context of the truth that "Jesus died to save us from our sins." Ground them in the essential, foundational, and glorious truths of the gospel with this 15-chapter family devotional.

Order

The Making HIM Known Series

Nine books designed to focus on particular aspects of the greatness and worth of God and our response to Him. Each book is based on one of the Truth78 curricula and designed for families. Discounted bundle includes all nine books.

Order

The Righteous Shall Live By Faith

A Study for children and adults on the Ten Commandments. Learn about God's perfect moral law and our inability to keep it, and how it points us to the grace God gives through the redemption offered by the death of His Son.

Order
Lord, Teach Us to Pray

The Lord's Prayer has much to teach us about our great and glorious God as well as about prayer. Lord, Teach Us To Pray instructs young and old to approach God in prayer with a heart of submission to God's desires and a trust in His good and right answers.

Order

Fighter Verses Studies

Go deeper into the verses you're memorizing with devotional studies designed to help you understand and apply God's Word.

Order

A Father's Blessing

Learn how to bless your children with sample blessings based on biblical texts. A Father's Blessing tools will help you establish and sustain a pattern for blessing your children.

Order
Which devotional is best for your family?
Answer a couple of questions to find out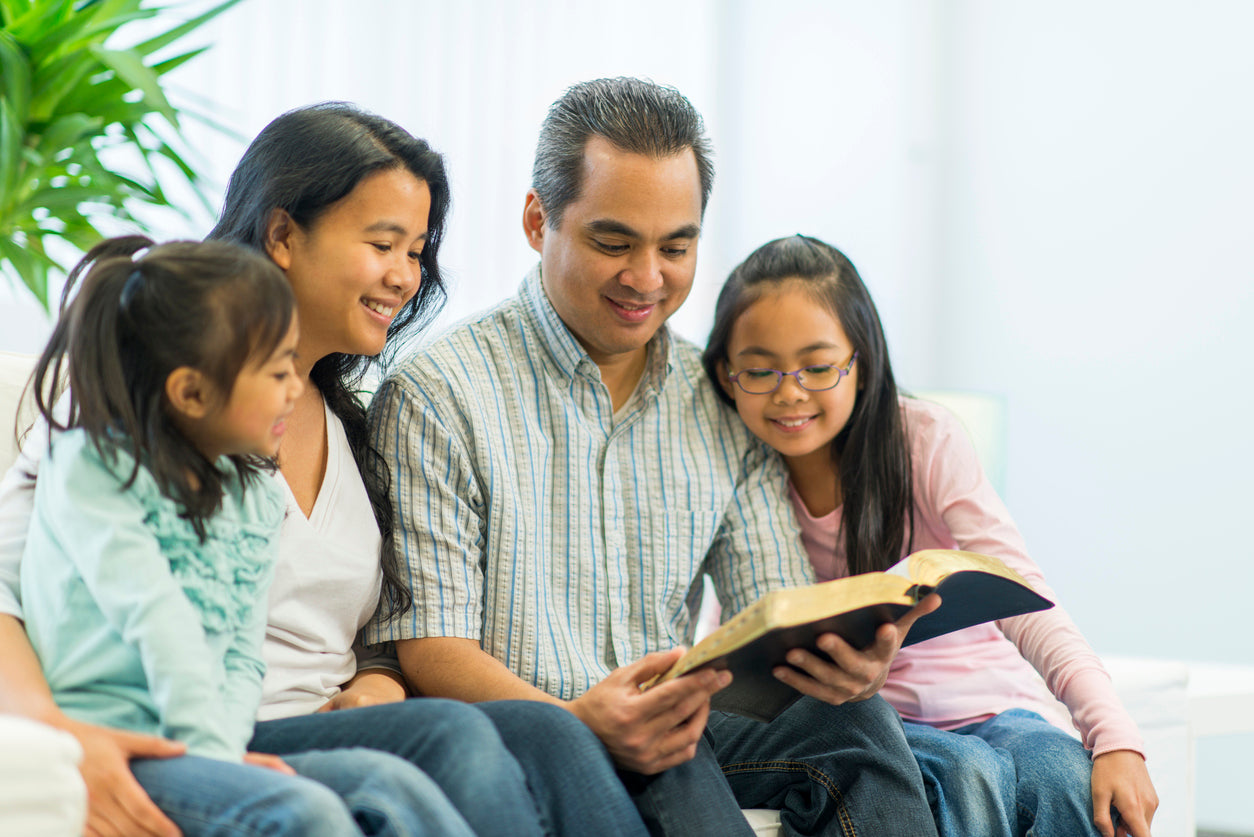 Getting Started
For some, especially those who grew up without family devotion times, leading these devotions can feel intimidating and stressful. But there are a variety of things that you can do to create a more conducive environment for your family.
Practical Tips for Regular Family Devotions
Have a regularly scheduled (and child friendly) time for devotions.
Keep track of time—stretch your children's attention span, but don't exasperate them.
If possible, the father should lead the devotional time.
Choose a regular place in your home—one with as few distractions as possible.
Put any and all electronic devices (e.g., phones, tablets) out of reach.
Begin your time with prayer.
End in prayer, and say a blessing over each child.
In order to motivate a younger child's attentiveness, consider following your devotional time with a special snack or dessert.
Devotions for the mind, heart, and will
We believe that there is an important progression involved in encouraging our children for a life of faith in Christ. To put it very succinctly: MIND → HEART → WILL.
Children must first be presented with biblical truth for their minds to absorb, ponder, and understand. Knowledge of God and His Word is the essential first step for faith (Romans 10:17). You cannot trust, love, and act upon what you do not know.
Next, that truth must go beyond mere knowledge. It must reach and transform the heart so that children might truly embrace, cherish, and love the truth—specifically love of God through faith in Christ.
Finally, this love will affect the will as it comes under submission to Christ, producing decisions, choices, words, and actions that are pleasing to God.
While we must fully acknowledge that only God can bring about this Spirit-wrought, grace-dependent transformation, we believe that it is our responsibility to guide, inspire, and implore our children to make a personal and sincere response to God's truth in their minds, hearts, and will. Therefore, our devotional resources are designed to instruct the mind, engage their hearts, and influence the will.