Godward Recognition
Ultimately, love for God and His Word should be what drives us to memorize passages of the Bible. Having God's Word stored up in our minds and hearts is its own reward. Still, a few thoughtful incentives, small prizes, or milestone celebrations—like when a child has memorized 25 verses—can motivate children, and even youth, who are new to Bible memory. 
How can you foster God-honoring thankfulness, not self-centered pride, when giving prizes and praise? By coupling recognition and rewards with prayerful thanksgiving and encouragement. Pray with your children, thanking God for giving them the desire and ability to memorize. You might say something like this:
Heavenly Father, thank you for giving Julie the ability and diligence to memorize Your Word. I pray she will hide these verses in her heart so that she might not sin against You. May she think about these words day and night. May Your words give her joy, encouragement, and hope in You. May Your words cause her to love and trust and follow Jesus every day.
And Lord, please give everyone in our family (or class) the desire, and diligence, to memorize Your Word. Help each of us to love You and Your Word more and more. May we taste and see that Your Word is sweeter than honey and brings joy to our hearts.
Praying this way points the child being recognized, as well as any others involved, to look godward. It affirms and recognizes the child's diligence, while praising God as the ultimate source and power behind his or her ability. It also reminds siblings or classmates of the main purpose for memorizing Scripture:
How can a young man keep his way pure? By guarding it according to your word. With my whole heart I seek you; let me not wander from your commandments! I have stored up your word in my heart, that I might not sin against you. (Psalm 119:9-11)
Tangible Incentives
Knowing Scripture by heart is its own reward. However, small incentives along the way can encourage those who are reluctant to try memorizing verses. A few ideas for encouraging Bible memorization include:
Prizes
Fighter Verses Tote Bag for carrying notebooks and Bible to church, ideal for preschool-kindergarten aged children
Lapel pin—possibly a shield or sword, in keeping with the armor of God theme—for grades 1-6
A gift to help a child grow spiritually. Consider giving a book (a biography of a Christian, a missionary story, or a devotional), a print or painting of his favorite verse, or a coloring book for younger children (like a Fighter Verses Coloring Book or the Glorious God, Glorious Gospel Coloring Book).
Pocket-size Bible or Audio Bible
The free Fighter Verses Memory Verse Charts to help children keep track of the verses they've memorized and motivate them to keep going.
Celebrations
Family game night or special meal, invite child to choose the game or help with the menu planning and preparation 
Pizza parties make an ideal prize in a classroom setting where a number of children have reached the milestone together.
Recognition
Post photos of children who reach memorization milestones—25, 50, 100, or ever more verses—on a special themed bulletin board. You might be able to find a real knight to use as a mascot in the picture.
As you reward Bible memory, be on the watch for opportunities to celebrate the joy of Bible memory and share stories of God working through His Word.
Resources for Memorizing with Children
Foundation Verses Cards

Help toddlers and preschoolers lay a firm biblical foundation with the Foundation Verses. These 76 verses are strategically chosen to equip young children with biblical truth. Vivid pictures prompt children's memory, helping them recall the verses.

Order

Coloring Book

Original illustrations for young children to color as they work on memorizing each of the 76 Foundation Verse. Also includes memorization suggestions and a chart to track memorized verses.

Order

Tote Bag

Perfect for carrying Bibles, My Church Notebooks, and Fighter Verses or Foundation Verses Coloring Books to church.

Order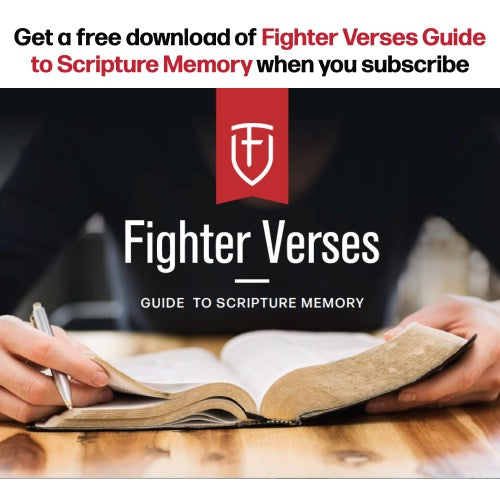 Sign up to get each week's passage, devotional, and help for memorizing delivered to your inbox—and we'll include our Fighter Verses Guide to Scripture Memory Free.
Free Guide