Teaching the Word with Fighter Verses
Word-saturated conversations between parents and children are God's means for learning to fear, love, and obey God. God told His people that His words were to be on their hearts so they could "teach them diligently" to their children, "talk[ing] of them when you sit in your house, and when you walk by the way, and when you lie down, and when you rise" (Deuteronomy 6:1-7). 
How can parents know the Bible and talk about it with their children? It's not as easy as it once was before all the distractions and demands of our age. But it's still stimple: spend time together in the Word.
Fighter Verses can help.
The short weekly passages are ideal for reading during mealtime. Parents can talk about the verse(s), ask questions to lead children to discover the meaning, and ask children to take turns bringing questions about the passage to the table. Drive time makes for captive audiences when we leave our devices unplugged. Use time in the car to practice saying the passage together or listening to the Fighter Verses songs to help you remember the words. Bedtime prayers are ideal for praying the promises of the Scriptures over children. 
Making Bible reading and verse memorization part of your family's routine is key to doing it faithfully. 
To make the most of the time you set aside:
Keep it short
A short instructional time that catches and holds a child's interest is better than a long drawn-out time that leaves the child bored and frustrated.
Keep it bite-sized
Keep instruction from being burdensome by teaching a word-, phrase-, or verse-at-a-time, according to your child's age and attention. The Bible is so rich that a single verse, or even phrase, can be plumbed for fruitful instruction.
Don't worry about being exhaustive. Instead, ask the Holy Spirit to guide you in teaching the points God puts on your heart. Better to spend several days on a small segment than try to cover everything in one sitting.
Keep it simple
It's fun to be creative with visuals and extras. But more isn't always better. Complex preparations often lead to days with little or no instruction because your schedule is packed. If you keep your Bible time simple, you'll be more likely to keep going consistently. Five to 15 minutes each day for a long time is far better than a one-time Pinterest-worthy production. 
Simple lessons require only that you mull over the meaning of the verse, asking God how it applies in your child's and your life, and praying that God will make the verse alive in your hearts.
Define words
Look up any words your child(ren) don't know, explain definitions in words they will understand.
Relate unfamiliar to familiar
Refer back to what your child already knows to help him understand a new concept. For example, when teaching Psalm 103:10, "he does not deal with us according to our sins," you might ask if he can think of a time in the Bible when God forgave someone who deserved punishment (e.g., Jonah's flight to Tarshish, David with Bathsheba, the Israelites' idolatry, etc.). Talk about how God was merciful, overlooking sin, possibly pointing to Micah 7:18 and Romans 3:25.
Use real-life situations to illustrate biblical truth
Use common experiences to help your child understand a biblical concept or the point of a passage. For example, the word covenant in Jeremiah 32:40 might be unfamiliar. Agreement is probably more familiar. You could use the example of agreeing on an allowance—the parents have an agreement with the child that they will give him a certain amount of money each month—to teach the concept of covenant.
Help your child(ren) interact with that truth
Asking questions is the easiest way to encourage your child(ren) to interact with the text. For example, Psalm 34:9 says, "Oh, fear the LORD, you his saints, for those who fear him have no lack!" You could ask: 
What do you think this verse means? 

What other verse do you know that talks about the same thing? 

What does it mean to fear God? 

Can you think of a person you respect? 

Do you act differently around that person? How do you act differently?

In what ways do you act differently to your little brother than you do to your teacher? 

What does this teach you about how we're supposed to act toward God? 

What does God promise to those who fear Him? 
Lead your children to see how Scripture applies to life
The aim of Bible instruction is not merely increasing knowledge, but also building faith. Help your children to see that God's Word relates to his own life by asking questions. Consider Psalm 56:3-4, "When I am afraid, I will put my trust in You. In God, whose word I praise, In God I have put my trust; I shall not be afraid. What can a mere man do to me?" You might read the passage, then ask:
Have you ever seen the truth of this verse in your life or in the life of another person? 

Do you have any fears? 

What are they? 

How will knowing this help you with fear? 

What can you do when you feel fear? 

What do you think God would want you to do now that you understand this verse?
Encourage your children to act on the Word of God
Ask the Holy Spirit to provide circumstances where your children can act on a newly discovered truth. And ask Him to bring that truth to your children's minds. Then encourage your children in their walk of faith.
Resources for Memorizing with Children
Foundation Verses Cards

Help toddlers and preschoolers lay a firm biblical foundation with the Foundation Verses. These 76 verses are strategically chosen to equip young children with biblical truth. Vivid pictures prompt children's memory, helping them recall the verses.

Order

Coloring Book

Original illustrations for young children to color as they work on memorizing each of the 76 Foundation Verse. Also includes memorization suggestions and a chart to track memorized verses.

Order

Tote Bag

Perfect for carrying Bibles, My Church Notebooks, and Fighter Verses or Foundation Verses Coloring Books to church.

Order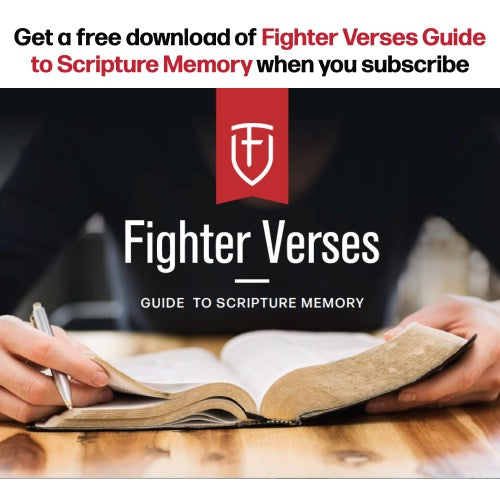 Sign up to get each week's passage, devotional, and help for memorizing delivered to your inbox—and we'll include our Fighter Verses Guide to Scripture Memory Free.
Free Guide