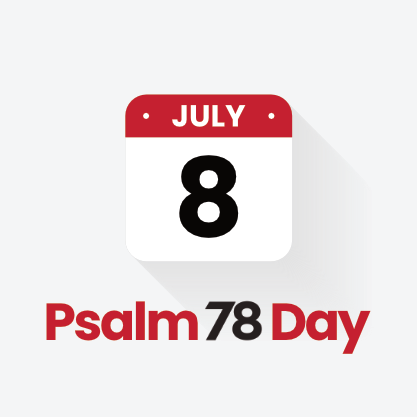 On 7/8, focus on Psalm 78 for the joy of the next generation
Tell the glorious deeds of the Lord to the next generation
What a tremendous challenge Psalm 78 gives one generation to tell the "glorious deeds of the LORD" to the next. God intends for His testimony to be taught to the next generations.
One generation faithfully teaches the next generation, which then teaches the next generation, which teaches the next generation, and continues this pattern until Jesus returns. This is the pattern God established for His people to make Himself, His Word, and the gospel known to all generations. Every follower of Christ has this calling.
As a way to incline this generation to meditate and act on these words for the good of the next generation, we encourage you to mark July 8 (7/8) as a day to focus on Psalm 78.
This illustration was created by Scripture Type, creators of "hand drawn Scripture resources and goods for the treasuring of God's Word."
Find creative prints of this illustration that can provide regular reminders of the Psalm 78 message. Scripture Type is offering a discount of 20% off any of their prints with the code Truth78 through July 11th.
Share the glorious deeds of the Lord with the next generation
There are many simple ways you can easily share the glorious deeds of the Lord with your children. See which one(s) will work best for you in this list.
Download PDF
Ways to mark Psalm 78 Day (#Psalm78Day)
Read Psalm 78, especially 78:1-8 in your personal and/or family devotional time.
Memorize Psalm 78:4 or stretch to memorize Psalm 78:1-8 (see Scripture memory tools below).
Share a verse from Psalm 78 with your friends along with the hashtag #Psalm78Day (and a link to this page).
Watch/listen/read the message Raising Children Who Are Confident in God from John Piper.
If you're a pastor, consider including Psalm 78:1-8 as the scriptural reading for your next service.
Watch this brief video about how Psalm 78 anchors the vision of Truth78.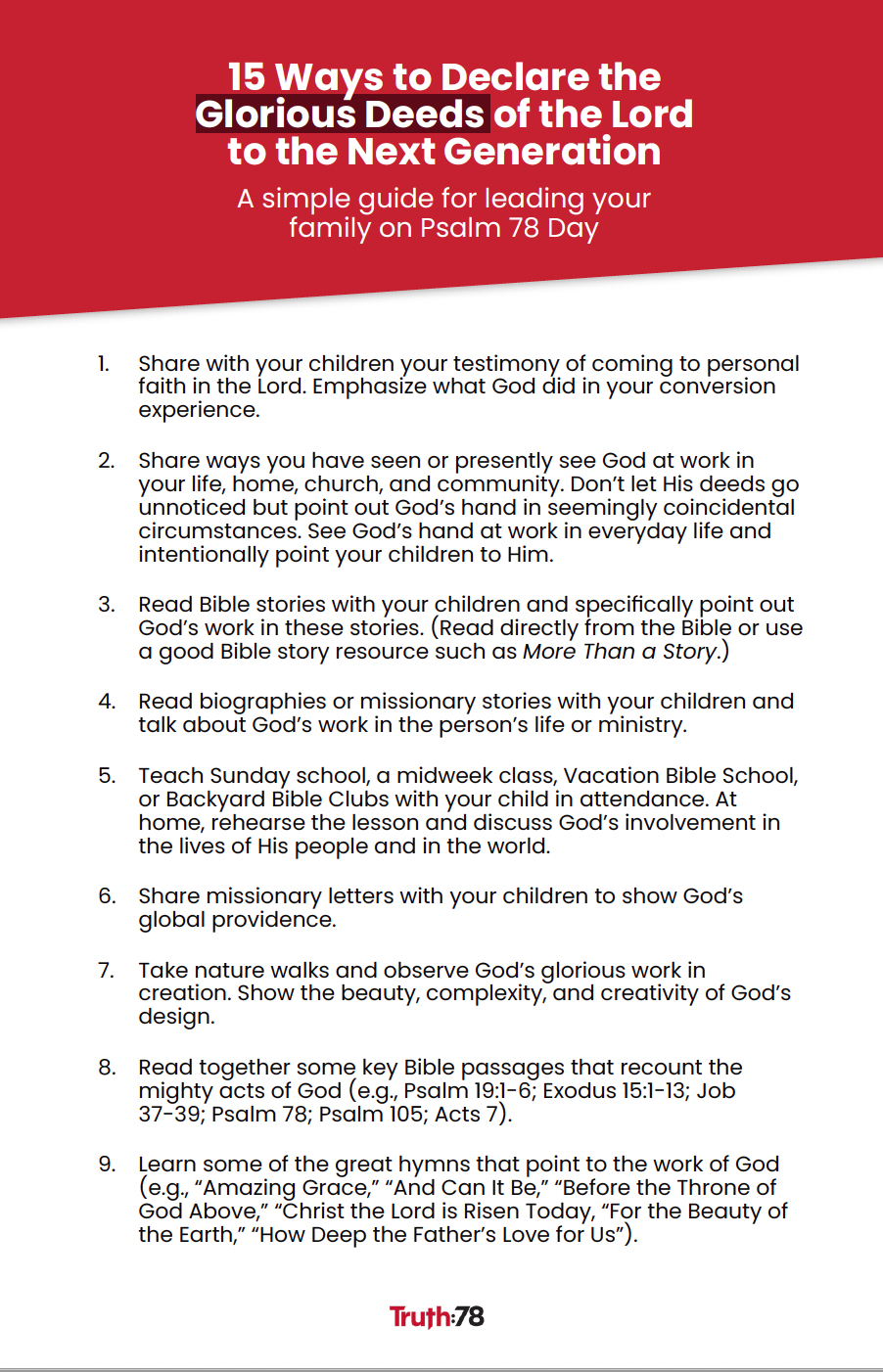 Memorize Verses from Psalm 78
The Fighter Verses™ Scripture memory plan includes various tools for memorizing Scriptures. Many of those tools are included in the Fighter Verses App. The app offers the ability to add verses like Psalm 78:4 or even longer passages like Psalm 78:1-8 that can then be presented in the app's range of tools for memorizing Scripture.